Skip to Content
Custom Curtains and Draperies in Dallas, TX
Color Your Home Beautifully With Custom Draperies
No matter your design needs or style preferences, the professional team at Classic Home Dallas can help you dress your windows with luxurious custom draperies. Drapes are generally floor-length window coverings that maintain their glamorous appearance even when there's a breeze on a beautiful day in Dallas, TX. With more than 30 years of experience as leaders and innovators in the home improvement industry throughout the region, our experts are highly skilled at designing interior and exterior solutions for your home's unique qualities.
You can transform any living space with our beautiful draperies, custom designed for your windows. All our custom made draperies are crafted in our workroom in the Dallas Metro area. When choosing Classic Home Dallas, your custom curtains and draperies go directly from our workroom onto a hanger and into your home. They're never boxed, so they won't wrinkle or lose their vibrancy. Reach out to our team today to learn more about our custom window draperies!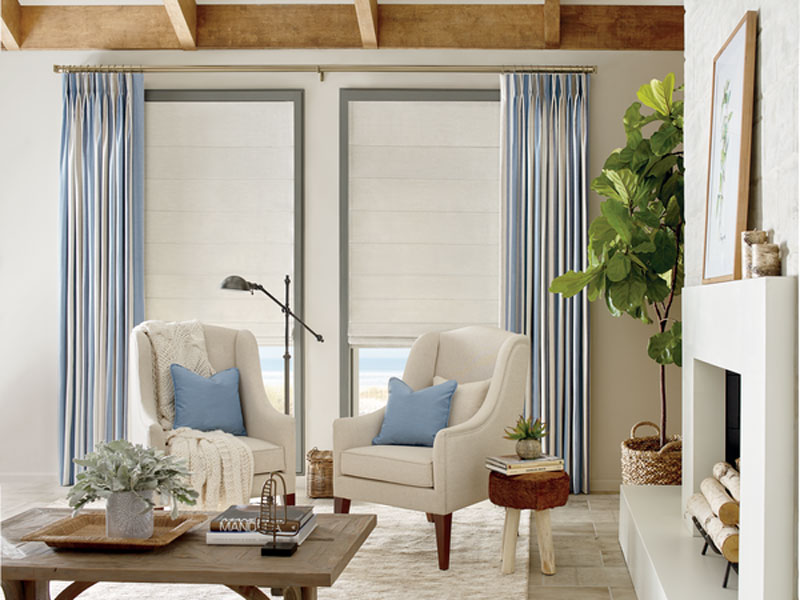 Custom Design Draperies for Every Style
When you trust Classic Home Dallas with your custom draperies, you'll have the ability to make your home even more beautiful and luxurious by choosing the color, design, material, and size. It's important to consider the functionality and aesthetic qualities of the draperies you select, and our design experts can help you every step of the way. Our window treatment specialists work closely with customers to help them decide which luxurious fabric fits their unique needs. Every drape we make is unique because we know every interior has its own special qualities. The addition of custom draperies to blinds or shades adds a touch of style and elegance and makes a bold statement in any room.
Exquisite Drapery Options for Your New Space
All our custom made draperies are tailored to your needs and style preferences. At Classic Home Dallas, our window treatment specialists will guide you throughout the selection process and explain the differences between the different types of draperies we carry, including:
Rod-Pocket Panels & Sheers
Grommet Draperies
Pleated Draperies
Tab-Top Panels
Blackout Curtains
Silk Curtains
Benefits of Custom Draperies
Homeowners throughout the DFW area can take advantage of several benefits of custom made draperies, including:
Endless options for design, material, and size
Allows your home to be more energy-efficient by keeping the interior cool
Keeps textiles and floors in pristine condition by blocking harmful UV rays
Adds elegance and beauty to your windows
Call Us Today to Begin Your Window Transformation
When you want to take the interior look of your home to the next level, Classic Home Dallas can help. With more than 30 years of experience providing premier home improvement services to home and business owners throughout Dallas, TX and the surrounding areas of the Dallas Metro area, our professional team can handle any job of any size. Our custom-made draperies crafted in our workroom right here in the DFW area will make you fall in love with your home's new look. Contact us today to learn more about how you can enhance your living space with beautiful, custom-made draperies!
When it Comes to Window Treatments,
We've Got You Covered