Skip to Content
Motorized Garage Screens in Dallas, TX
Motorized Garage Screens Made in the USA
Classic Home Dallas and The Shutter Shop by CHD offers the Very Best Motorized Retractable Garage Screens available in the DFW area.
Imagine being able to turn your Garage into a private, ventilated, shaded insect-free added living or workspace, all at the touch of a button. Your garage can now become a pleasant workshop or workout room in a pleasant private environment.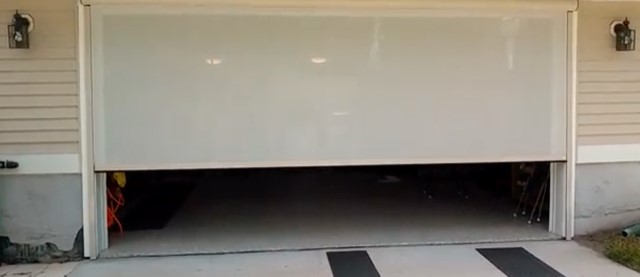 We Provide Economical Factor to Your Home
We offer several color options that will stylishly blend into the exterior of your home. For installation, Classic Home Dallas uses the existing framework of your Garage without touching your existing garage door. And there is special wiring needed. Just plug into a standard 115-volt electrical outlet and enjoy.
Our Motorized Garage Screens add an economical factor to your home, as well. Motorized Garage Screens cool your Garage and attic space by allowing hot air to escape through the screen in the warm Texas Summer months. Our Motorized Garage Screens retain heat during the Texas Winters, therefore reducing your energy used.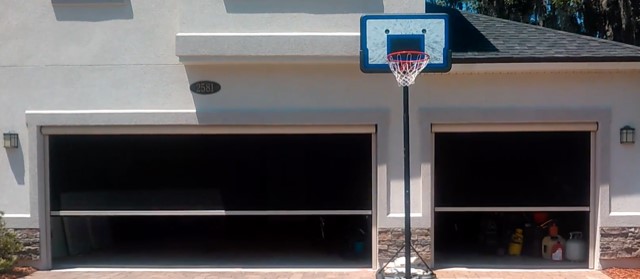 We Offer Privacy Screen Mesh
With residential square footage at a premium in DFW, our Motorized Garage Screens bring added living space to your home. Our Motorized Screens allow you to take the most advantage of your Garage space by opening it up year-round to the fresh air and NO-INSECTS! Our Motorized Garage Screens offer Privacy Screen Mesh that is virtually impossible to see through in the daylight hours by neighbors on the outside passing by…but not to worry…you can always see them!
Benefits of Motorized Garage Screens
Oh, and the reduction in pollen inside your Garage with our Motorized Screens…you have never seen anything like it! Our Motorized Garage Screens are virtually maintenance-free. To clean our Motorized Garage Screen, simply hose the system down with water. Our Motorized Garage Screens have a baked-on, powder-coated finish that will never oxidize or fade from the intense Texas sun. Our endcap system is manufactured from Dupont 501 Nylon that will never warp, bend, or chip. Our Screen Selections are never a cheap Fiberglass Mesh. Classic Home Dallas only offers beautiful, durable Polyester Nylon Screening Mesh that is warrantied against any strand breakage or discoloring. Because our Screen Mesh has loomed Polyester Nylon, our Screen Mesh does not retain the horrible Texas pollen.
Schedule Your Free Consultation
All of our Motorized Garage Screens are Affordably Priced for every homeowner. So whether you use your Garage space to park or work on your car, or as a Home Workshop, a Home Gym, a Craft Area, Easy and Protected Parking for your Golf Cart, an added Entertaining Space or if you just want to open your Garage to enjoy the fresh air and breezes, Classic Home Dallas and The Shutter Shop by CHD has the Motorized Garage Screen for You! Contact Us Today to Schedule your Free, No-Obligation Consultation. Enjoy Your Outdoors Again!
When it Comes to Window Treatments,
We've Got You Covered