Skip to Content
Interested in Louvered Patio Covers in Dallas, TX?
Our Patio Cover System Experts Are Here to Help!
The patio cover system experts at Classic Home Dallas have been leaders and innovators in the home improvement industry for more than 30 years. We customize the interior and exterior solutions for your home's unique qualities, as well as your own desires and preference as a homeowner. We want to help you utilize your outside space by providing you with shade, privacy, and the ability to protect your outdoor furniture with our state-of-the-art louvered patio covers by StruXure.
Whether you're expanding your outdoor entertainment space or looking to cover your pool, we offer many different fabrics and colors to customize your louvered patio cover in Dallas, TX, and surrounding areas. With a simple touch of remote control, these motorized shades work with your home's technology system. Call the Patio Shade Shop by Classic Home Dallas today to schedule a consultation with our professional team!
Enjoy the Outdoors Again with a Louvered Patio Cover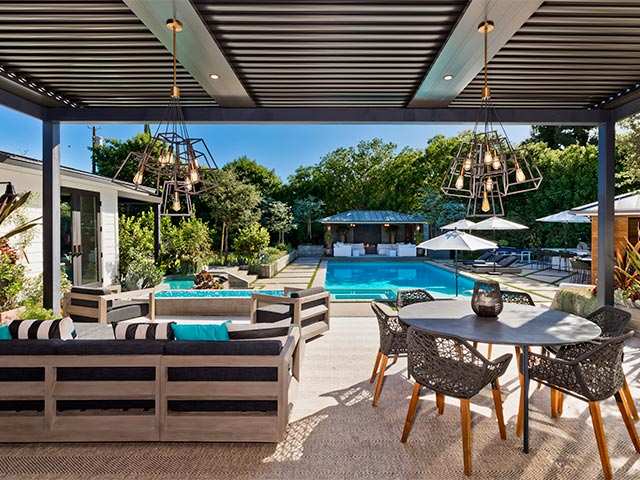 Louvered roof systems allow you to enjoy the outdoors in an inviting and comfortable environment. Our StruXure louvered patio covers won't trap heat like traditional patio covers, so you can sit outside under the shade for as long as you want without feeling uncomfortable. You can adjust the amount of light that's let in by angling the louvers, and if it suddenly begins to rain, you can simply close them completely to protect you and your party.
Louvered patio covers can be positioned anywhere within their 160-degree range of motion for the precise amount of protection or ventilation desired. Unlike traditional plastic or fabric patio covers, these louvered patio cover components will outperform in all the elements, including extreme heat and rain. The patio systems at Classic Home Dallas are simply made to last. Some of the reasons our customers love having a louvered patio cover for their home include:
Patio covers require little to no maintenance
The sturdy aluminum components never rust or warp
Powder coat finish won't fade over time in the sun
Ability to control ventilation and sun exposure
Many design options to choose from
Integrates flawlessly into home's existing architectural style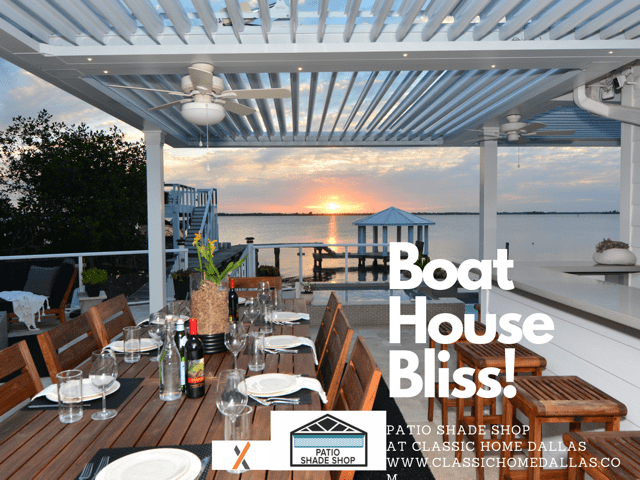 Our Professional Team Helps with Every Step of the Process
If you're interested in having a louvered patio cover installed for your home, our highly trained and experienced design consultants will come to your home for your initial consultation. After getting a better understanding of your design needs, we will present samples of solutions that best fit your home and your personal style. Once your customized louvered patio cover arrives, you'll be contacted to schedule a time for installation that is most convenient for you.
Why Choose Classic Home Dallas for Residential Patio Covers?
Classic Home Dallas has been among the most trusted home improvement innovators in the Dallas Metro area for more than 30 years. From installing state-of-the-art smart window treatments to motorized garage screens, our professional team can handle any job of any size. As a family-owned and operated business, we have worked hard to bring the best American-made products to our customers at competitive, affordable prices. Contact us today for more information about louvered patio systems or to schedule a consultation!
When it Comes to Window Treatments,
We've Got You Covered