Skip to Content
Commercial Window Treatments in Dallas, TX
American Made Commercial Window Treatment Solutions
If you own or operate a business in the Dallas Metro area, you know how important factors like comfort and energy-efficiency can be. Classic Home Dallas carries and installs a variety of window treatment solutions for your business or commercial facility. Many business owners are focused on getting their office or retail space set up just right, but forgetting about window coverings result in increased expenses and decreased productivity. High-quality window coverings can make your place of business more energy-efficient, reducing overhead by lowering cooling costs during the warm Dallas summer months. Our window treatment solutions allow you to let the perfect amount of sun inside while reducing glare. Contact Classic Home Dallas today to learn more about your commercial window treatment options.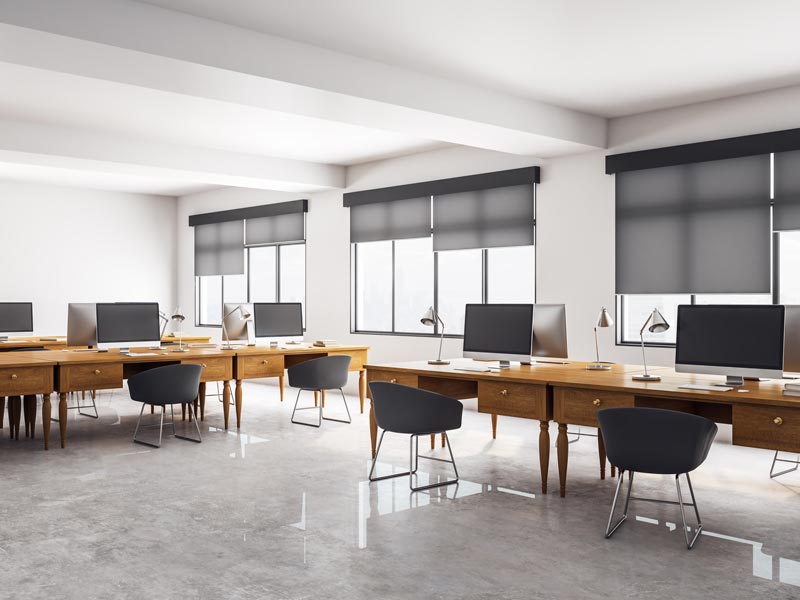 Shades and Screens For Your DFW-Area Business
We know that the temperature has to be just right in your building. Our window treatment options can lower your costs by making your place of business more energy efficient. The hot Texas sun feels great during a day at the park, but it can quickly heat your building if you aren't careful. Classic Home Dallas carries and installs commercial-grade solar shades and sunscreens to make your business a more comfortable and desirable place to shop or work. Our window coverings are designed to handle heavy usage for businesses like yours in the Dallas Metro area. They're also visually-appealing and customizable for your unique needs.
Free Consultations for Dallas Metro Area Business Owners
Whether you're moving into a new commercial building or it's time to update your office space, we provide the window treatment solutions you need. Our commercial solutions offer UV and solar heating protection, customizable colors and fabrics, premium heavy-duty components, and more. If you own or run an office, you know how important productivity is. Light control can improve the appeal and function of your workspace. Natural lighting provides a better environment than harsh, artificial lighting does, and high-quality window treatments can protect against glare on computer screens. No matter what type of business you run, window treatments are an important way to cut costs and increase comfort levels. Contact Classic Home Dallas today for a free, no-obligation consultation at your place of business.
When it Comes to Window Treatments,
We've Got You Covered